Neat Fresh Flip Program Theme Package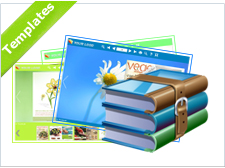 Unzip Pure and Fresh Theme package, to use free themes designed with blue sky, blooming flowers, tender new leaves images etc.
* Pre-designed 3d flipping ebook templates based on Fresh subject;
* Easy import to use in any software of FlipBook creator series;
* Customize your own info with using the integrated themes.


Themes
In Neat Fresh Theme package, you can get 6 free themes which are designed with background images: beautiful flowers smelt fresh and sweet, tender new leaves, chrysanthemum floating, artistic cabin etc. And the toolbar color and button color have been adjust to compatible with the background images. Just use one of the Neat Fresh Theme, and then you can create a fresh flash ebook with page flip effect. While people flip the book page to view, they will get the feeling of living in nature freely.
So, how to use these theme in FlipBuilder program? It is simple to import the theme you like to FlipBuilder program and set the toolbar button on the top of flipbook, like share, search, add Logo, zoom in/out, bookmark and thumbnail. And choose output format to converting. Then you can get a file to preview the flash ebook, all you set will be show in this book.
Details about using themes in Flip programs >>
Screenshot