How do I hide flipbuilder.com from my online book URL?
After publishing my flip book onto the flipbuilder.com server, I received a link for my book. It is a flipbuilder link. I do not want to expose to my clients to a link that says flipbuilder. Is it possible to use a link from my site with a different name?
If you don't want to show "flipbuilder.com" in your online book links, you can follow the following methods:
Method 1: Edit HTML file
1. Download book.zip file here, decompress the package, open book.html file in Dreamweaver or other HTML editor;
2. Edit the HTML file with replacing title "Your Title" into your own book title, and "http://flipbuilder.com/flip-pdf-pro/demo" into your online book link, save the HTML;
The "http://flipbuilder.com/flip-pdf-pro/demo/files/shot.png" is the book shot which will be shown when your book is shared on Facebook;
The "http://flipbuilder.com/flip-pdf-pro/demo/book.swf" is to show the animated Flash book in Facebook share page directly.
3. Upload the HTML onto your own website, then you can click the HTML link to view your book directly.
For example, you can go to this A-PDF site page to view Flip PDF Pro demo directly: http://a-pdf.com/flipbook-creator/book.html .
Method 2: Embed iframe to your website or blog
1. After you upload the flipbook to FlipBuilder online server, you can click "Manage Online Books" to open the Book Manager.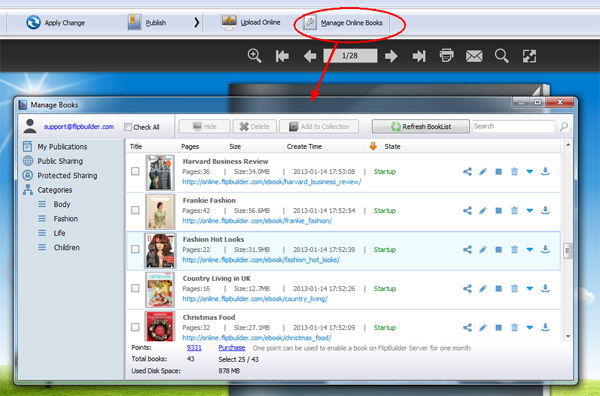 2. In the Book Manager window, click the "Share" button and in the pop up dialog, click "Insert to site" tab; copy the embed code and paste to your website or blog.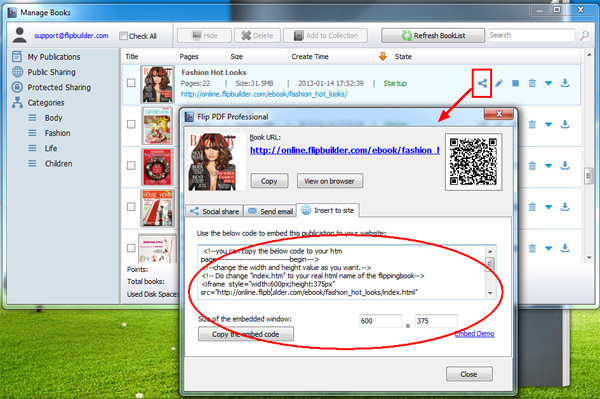 Optionally, to make your online book URL without flipbuilder.com, you can upload the output flipbook to your own website.