Free Photo Book Maker
Use Flip PDF to design a brilliant photo book with page flip effect.
Demos Created by Photobook maker
Customize the Templates
Flip PDF is equipped with beautiful templates for corporate, creative or marketing themes. The purpose-oriented templates help get the attention of targeted readers and they would know what kind of photo book you are displaying. There are a wide range of ready-made templates, background images and dynamic scenes for your innovative design. If you chase for personal design, you could also input distinct pictures as in the templates library for DIY.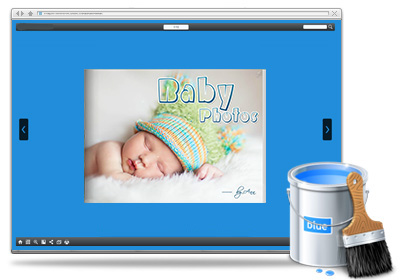 Interactive Multimedia Insert
For fluent communication with your readers, most enterprises would choose to add videos, audios, music, image, slideshow, hyperlinks and other animated media to co-display your product in a comprehensive way. Among them, hyperlinks are used most frequently. A single photo book could not contain all the detailed information of your enterprise, so a link helps lead audience to another webpage for more corporate products.
Work on All Devices
Based on HTML5 & CSS technologies, Flip PDF enables your photo books to work on PC, MAC, iPad, iPhone and ios, android devices. No matter what device your visitors have, they could access your photo content conveniently. They don't have to attach themselves to the desktop tools for Internet surf which limits the mobile flexibility of time and location.
Read in Mother Tongue
Flip PDF provides users with 12 languages for your design. During the reading, readers could flexibly switch between the chosen languages. Mostly readers prefer the native language. Readers could read it quickly as well as grasp the information efficiently. No one is willing to lose a potential customer because of the language barriers.
Social Networks
We all get familiar with popular social networks like Facebook, Twitter, Pinterest, Google+. Many people are the normal users of them and they like to share news, happy moments and favorite photo books to friends via them. Just one click and visitors could choose among hundreds of social networks to share the digital content directly from the photo book interface.
Why choose the free photo book maker?

Interactive photobook
Create life-like photobooks that inspire your friends immediately.
Customized setting
Fully customize your photo book, include background, toolbar, brand logo, icon.

Mobile reading
Support HTML photo book output, smooth
reading experience on mobile.

SEO friendly
Search engine friendly, your photo books
can be found by Google & Bing.
Social features
Allow your users share with Facebook, G+,
Twitter and other social networks.
Embed multimedia
Insert video, audio, Flash, slideshow and
other animated elements into the page.

Batch conversion
Transform PDF files to photo books in a
batch fluidly in a minute.

Distribute anywhere
Publish to web, Mac, burn it onto CD/DVD
or USB flash drives, distribute it on public.

Cloud publishing
Publish unlimited photo books to
flipbuilder online cloud publishing platform.
Want to make wonderful gifts for special occasions? Then a well-designed digital photo book should be a good choice. Use Flip PDF for an interactive photo book that works on all mobile devices.