Life Theme Packages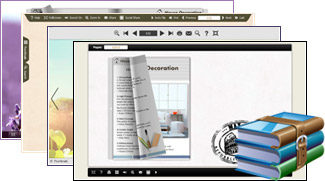 If we look at the world with a love of life, the world will reveal its beauty to us. Everyday you are surrounded by sheer beauty, the question is, are you feeling it, are you aware of it…or are you too busy in your mind? The Life Theme Package provides 24 different style themes which designed with wonderful life moment images, Classical Nature, Float Life, Spread Wallpaper and Neat Flower.
Download these beautiful themes to decorate your digital magazines now!
1. Free Classical Nature Color Flip Program Themes
Nature has such a unique array of colors, ranging from crisp blue skies to red rocks, green leaves and purple flowers. You can feel different amazing colors in nature all the time. The Classical Nature Color Theme Package provides beautiful nature scenes in different places, different seasons. Use these themes to decorate your photo galleries or business catalogs, bring nature feeling to your book readers.
2. Free Float Life Flip Program Themes
The most beautiful things are the things you can't describe because of how beautiful they really are. And most of the time it's the simplest of things. The Float Life Theme Package just designs flipbook themes with normal but beautiful life images, delicious cupcakes, warm flowers and summer trapeze, love letters and interesting postmark, etc.. Download these themes to make your book more friendly and approachable.
3. Free Spread Wallpaper Flip Program Themes
The theme is one of the most basic customizations while designing digital eBooks with Flip tools, like wallpaper for computer computer screen or phone screen. Here the Spread Wallpaper Thmee Package just provides flipbook themes designed with wallpaper style images, you can totally customize your books looking with these simple but flexible background images.

4. Free Neat Flower Flip Program Theme
Beautiful flowers, beautiful blooms in every shade and color - orchids, hydrangea, tulips, roses, peonies and more. Most of our associations of certain colors are due to flower, such as the attraction and heat of reddish colors, and the refreshing feeling of blue colors. Here are 6 beautiful flower pictures themes to inspire you. You can use the Neat Flower themes to beautify your magazines or brochurs.