For more flexible and powerful templates, FlipBuilder has released a series of amazing pre-designed brochure templates. Alpha Templates are affordable and easy to use, after buying, you receive download link and license. Once registered you can design calendars, booklets and advanced presentations. Other Templates are free to download and use in Flip programs, no payment or license needed.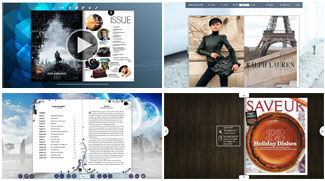 Brand Templates comes with 5 kinds of different style templates, including Elastic, Fluid, Solemn, Stretch and Upscale.
Elastic template has a flexible toolbar for you to hide or show. The unique of Fluid template is that it has a handy bookmark editor, which allows people to create bookmark for each book page. Interactive Solemn Template integrates with search function. More details about the templates
Price:

$79.00

(for PC/Mac)
1. Conciseness: This is the simplest template to present eBooks with a unique tips feature;
2. Lively: templates with lively interface, lively toolbar and lively buttons;
3. SingleSlide: templates provide a default single page view designed for a horizontal look;
4. Calendar: templates help you design sliding calendar eBooks.
Price:

$79.00

(for PC/Mac)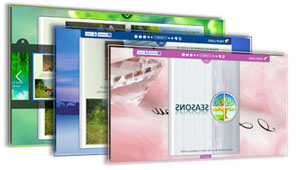 Free template with handy tools
The Handy Template offers a simple interface style, with really useful tools to control the books. All functional tools can be shown or hidden very easily in this Handy Template, including the Top toolbar, Logo, Thumbnail, Share and Sound. The intuitive "Help" window will be useful to show all icon features when the book is read for the first time. Learn More.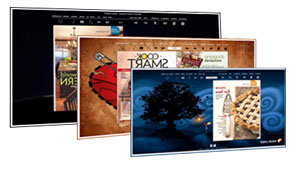 A Multi-language and functional template for Clear reading
Then Clear Template is multi-language and functional template allowing readers to view the flipbook more clearly. If your readers are not English speakers, you can use other languages and the readers can switch directly. The flexible navigation mode provided by "Thumbnail" and "Bookmark" navigation provides rapid scanning of all pages. 'Search' features can be enabled allowing the reader to quickly find specific content. Learn More.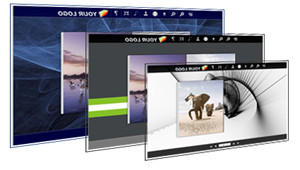 Make a Modern FlipBook with a simple and fashionable Template
The Facile Template is a simple and fashionable template designed for you to create a modern flipbook easily. With this template, you can build flipbooks with various navigation modes, full tips in a Help window, customized bookmark and toolbar button colour, branded company Logo and images inserted in the title or background. It is easy for readers to use your flipbook and get help and company info directly. Learn More.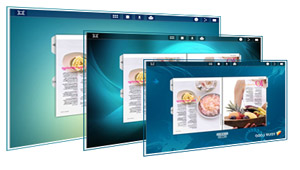 Free Concise Template with different functional buttons
Lucid Template is concise template allowing the reader to navigate your flipbooks with ease. With different functional buttons in the toolbar of 'Lucid' template, people can easily share the flipbook link with others via Facebook or Twitter, easily print out any page of your book, and view the eBook in a full screen mode. In addition you can customize the background of your flipbook with any image, mailer ads or coupon information. You can even insert a Logo into the lower left corner of the book. Learn More.
Template for designers to create fashionable page flipbooks
The Specific Template is a free template for designers to use in any FlipBuilder program, with defined buttons and a simple interlace. You may enable features on the TopBar for your readers' convenience while reading, using both zoom in/out controls, Thumbnail navigation, background music, Face book or Twitter sharing etc. Learn More.
Have Animated Thumbnails and a Visual Zoom Bar in your book
Free Active template provides various flexible features for easier reading. The most powerful features in template include: enable/disable book reflection, turn and view any page using the animated Thumbnail, and a visual zoom bar. Learn More.
Free Wonderful Template with Thumbnail Options
Free Gorgeous templates not only help to customize the background of your publications, but also enable users to flip pages in Thumbnail window. There are a range of tools you can display in the template toolbar. For example: to assist reading, share options with Facebook or Twitter friends, preview a list of book titles, zoom in/out plus several others. Learn More.
Templates VS Themes
In Flip programs, there are different templates you can choose to present your books in different book layouts, tool bar settings, and background configurations. The four default templates are Classical, Float, Neat and Spread. The Classical Template enable you to show your page-flipping eBook in an unadorned style; the Float Template is the most flexible template designed to help you modify many functions when creating page-flipping eBook; the Neat template is a stylish and fresh look for you to design stunning page-flipping eBooks; and the Spread Template shows you all the buttons on the left and top of your page-flipping eBook. Now that FlipBuilder provides more amazing and wonderful templates for you to use, you have a wider range of choices for your 3D flip books.
The image below shows, in different templates, there are many pre-designed themes with inserted backgrounds, adjusted tool bar colours and different features enabled. You may use these themes directly without configuring them again. More free pre-designed themes can be downloaded in this "Themes" page. You also can create your own style themes in the different templates.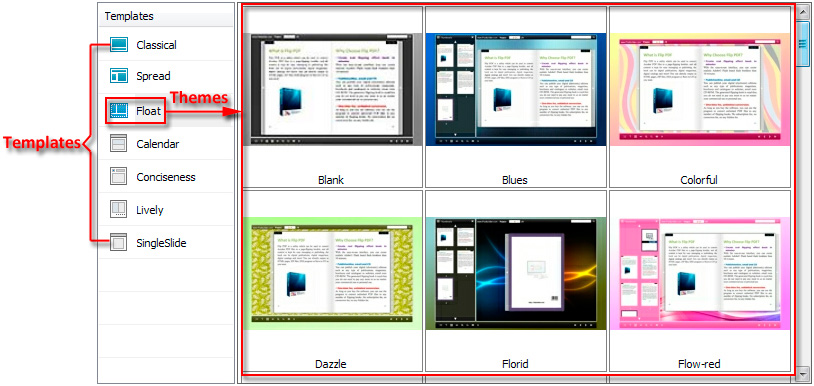 Template Customization
Do you want to use a unique template to present your flip books?
Tell us your requirements on tool bar style, buttons position, background feature and so on (send us your drawings, screenshots or sample books as reference...this would be even better), and we will provide you a solution which will perfectly address your needs at a very affordable price.
Contact us at: help@flipbuilder.com