Classical Artistic Flip Program Theme Package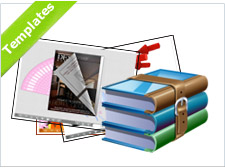 Classical Artistic Theme package designs template with imaginative and creative images and suited toolbar color.
* Pre-designed 3d flipping ebook templates based on artistic subject;
* Easy import to use in any software of FlipBook creator series;
* Customize your own info with using the integrated themes.


Themes
Art is not a thing — it is a way.
We are all evolutionary artists, regardless of our particular skills or talents or styles of self-expression. We work in the dark, we do what we can, and we give what we have. Our doubt is our passion and our passion is our task. The rest is the madness of art. If you put your heart into art and watch carefully, you will find that life is full of art. For example, the performing arts, music, dance, dramas and movies we always enjoy in common life.
While making your flipping ebook about garden design, building design, or home design, you can choose one of the themes in Classical Artistic Theme package, and import into your program to design the book background and toolbar color in a short time. Easy for you to make an imaginative and creative flipbook with any Classical Artistic Theme!
Details about using themes in Flip programs >>
Screenshot