Float Butterfly Flip Program Theme Package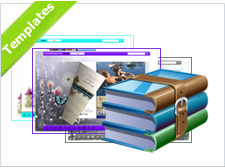 Float Butterfly Theme package provides templates that design the background with charming butterfly pictures.
* Pre-designed 3d flipping ebook templates based on Butterfly subject;
* Easy import to use in any software of FlipBook creator series;
* Customize your own info with using the integrated themes.


Themes
Butterflies are beautiful, flying insects with large scaly wings. As we all know, Butterfly must go through four different life stages, egg, larva, pupa, and adult. When you see the butterfly dance as they flitter among the flowers, they may want to tell us take things easy within our lives. And they awaken a sense of lightness and joy. They remind us to get up and move, for if you do not move, you can not dance.
The color of the butterfly is different. Different colors have different significance. In Float Butterfly Package, we can see black butterfly, blue butterfly, green butterfly etc. All these images used to design template background, helps you to make a charming and elegant flipping catalogue. And you can also set tool bar button in Float template, like share, print, download, fullscreen, zoom in/out etc.
Details about using themes in Flip programs >>
Screenshot