Neat Lively Flip Program Theme Package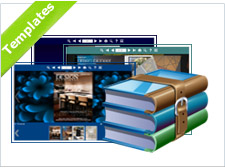 Free Lively Theme based on Neat template provides 6 flexible and attractive themes for you to import in FlipBuilder program.
* Pre-designed 3d flipping ebook templates based on Lively subject;
* Easy import to use in any software of FlipBook creator series;
* Customize your own info with using the integrated themes.


Themes
Free download Neat Lively Theme package, you will get 6 flexible and attractive themes to import in FlipBuilder program, and then create a fashion and clear flash flip ebook with page flip effect. There are black flowers blooms in the dark, flowers fall down with wind, rainbow in the sky, and abstract images in this package, which is used to decorate your flipbook as background.
And you can also set the toolbar color as you like, or use the pre-designed button color directly. While making flipbook, you can set the top toolbar button in Neat template, including share, search, print, download, view in fullscreen, and zoom in/out etc.
Now, use Neat Lively Theme to create your own flipbook, to give a new life for your file and attractive more readers attention easily.
Details about using themes in Flip programs >>
Screenshot