Neat Purple Flip Program Theme Package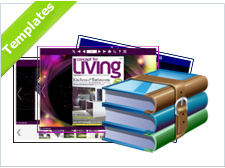 Free Download Purple Theme package based on Neat template to design flipbook background and adjust toolbar color directly.
* Pre-designed 3d flipping ebook templates based on Purple subject;
* Easy import to use in any software of FlipBook creator series;
* Customize your own info with using the integrated themes.


Themes
Color can influence our emotions, our actions, and how we respond to various people, things, and ideas. Colors often have different meanings in various cultures. As time goes on, the meaning of colors haves changed over the years. Res meaning, action, confidence, courage, vitality. Pink meaning, love, beauty. And purple is the color of good judgment. It gives us the feeling of warm and cool. We can see the shades of purple anywhere in our life: amethyst, eggplant, lavender, lilac, mulberry, orchid, plum, pomegranate, violet, and wine.
The color Purple also means "Romantic". Imagine if you taste wine and walk through the endless lavender inside with lovers, that must be the most romantic thing in our life. Do you want to take the feeling to your friends? Now, use free Purple Theme which is designed with light and deep purple images, to create a romantic and warming page flipping publications for readers reading online. While they flip the book page to read, they can experience the warm and cool feeling from the book.
Details about using themes in Flip programs >>
Screenshot